Dunston Business Village Virtual Client
Virtual Clients take your Virtual Office scenario one step further by answering the question:
What happens when I want to expand?
Your Virtual Client takes that problem and expands your Virtual Office over the Internet.
Now you can have employees spread over the world all working from the same client, using the same software and limiting the cost of expensive equipment needed for the home office.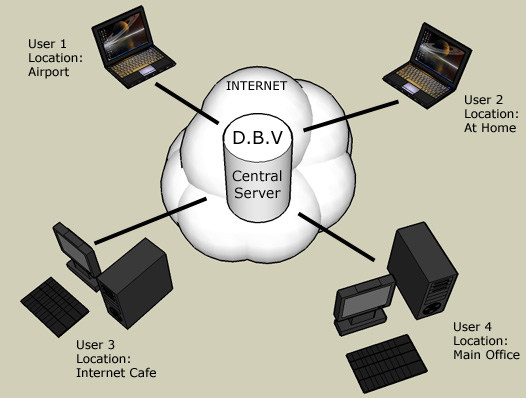 Unlike your standard VPN ( Virtual Private Network ) which makes use of the Internet to allow a secure communication network between office locations and the sharing of documents, the Virtual Office Client allows much more.
Through the use of Citrix® Software combined with Microsoft®'s applications the Virtual Office Client allows you to not only access your companies documents, but your own licensed software!
From most computers with web-enabled browsers and broadband connection you can connect through to your Data Center hosted Secure Application Server and use your software from where ever you are!
Although this means you can use your software on many different computers, you still need licenses for each application you want to use and more than one person cannot use the same license at the same time. e.g.
1 person using 5 computers = 1 license per application
5 people using 5 computers = 5 licenses per application
Case Studies
The following Case Studies highlight some of the benefits to companies that have opted for the Virtual Office solution.
Case Study 1 - Office with distributed workers
Dunston Business Village - Registered in the UK : 4223216 - VAT Registered : 775967654
Registered Address : Woodland Lodge - Dunston Business Village - Dunston - ST18 9FJ
Site best viewed with Google Chrome or Mozilla Firefox
Dunston Business Village has a wide catchment area that covers the following regions: Dunston Stafford Penkridge Cannock Staffordshire West Midlands Midlands Stoke on Trent Telford Wolverhampton Tamworth Sutton Coldfield Birmingham Bridgnorth Donnington Newport Market Drayton Uttoxeter Burton Upon Trent Cheadle Rugeley Lichfield Walsall Dudley West Bromwich Oldbury
Site Privacy, Terms & Conditions, Legal Notice | Dunston Business Village © 2008 - 2023 IT support by DBV IT Helpdesk | Site Map