Dunston Business Village Virtual Client Case Study 1
Enhancing your company with a Virtual Office Client allows growth and change but without the usual associated costs resulting in conversion or increase in staff.
Using the Distributed Phone system in partnership with the Virtual Office Client helped HDS improve their difficult, but necessary, business model resulting in a increase of both productivity and profit.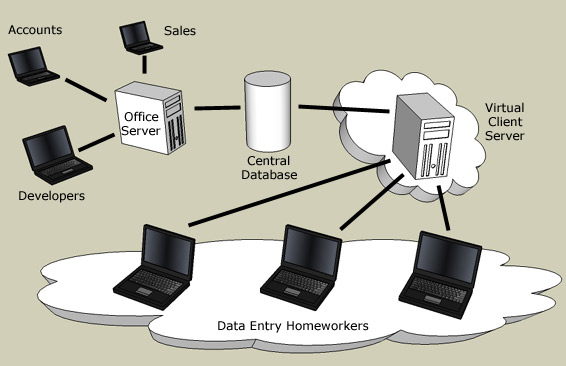 Distributed Working: Housemann Data Systems
HDS create custom data solutions for industrial customers using data supllied from the client. This data is processed and used in both creating and populating the final system.
The Old System
The main part of the HDS process involves large amounts of data entry, this is tackled by using a homeworker system. The old HDS system used to employee Data Entry Clerks from the local area, supply them with basic computer equipment, and send them raw data in the post. The Clerks would then process this information into a spreadsheet that would be emailed back to the head office.
Unfortunately, due the nature of data entry work, HDS have a high turnover rate with their Clerks. This leads to loss of important raw data, when the ex-clerk fails to return or loses sheets, sometimes expensive recovery of equipment, and much administration work re-organising and employing new Clerks.
It was decided that the best way forward for HDS was to supply them with a Virtual Client system.
The New System
The Virtual Client allows the Data Entry workers to log-on to a secure system from their own home PC. No special software or expensive hardware is required as the users only need a web browser to work with. Using the Distributed Phone system each Clerk can be assigned their own phone number.
All information is processed securely and neatly within the browser window. Only basic training is necessary through the online help and training manuals. Enabling the Clerk to be more productive for a lower outgoing cost.
"Our Virtual Client makes getting the information to and from the Data Entry Clerks as smooth as possible. We still have a large turnover of Clerks, but this doesn't cost us any extra as it is so easy for the new employees to get started!
We don't supply any hardware, and we have no postal costs, everything is tracked so if we lose a Clerk we wont lose any valuable data or expensive hardware!"
Distributed working can enable your company to grow with ease and low cost, increasing maximum potential. HDS limit their outgoing costs associated with a high turnover of low level staff, and increase the geographical range of potential employees, maximizing the return of end product in a reduced time frame.
Dunston Business Village - Registered in the UK : 4223216 - VAT Registered : 775967654
Registered Address : Woodland Lodge - Dunston Business Village - Dunston - ST18 9FJ
Site best viewed with Google Chrome or Mozilla Firefox
Dunston Business Village has a wide catchment area that covers the following regions: Dunston Stafford Penkridge Cannock Staffordshire West Midlands Midlands Stoke on Trent Telford Wolverhampton Tamworth Sutton Coldfield Birmingham Bridgnorth Donnington Newport Market Drayton Uttoxeter Burton Upon Trent Cheadle Rugeley Lichfield Walsall Dudley West Bromwich Oldbury
Site Privacy, Terms & Conditions, Legal Notice | Dunston Business Village © 2008 - 2023 IT support by DBV IT Helpdesk | Site Map