Serviced Office Space
Our Awarding winning Serviced office solution, offers your Business the very latest in IT and telephony Technology, whilst allowing your Business to be located at a great multiple award winning location.
Fed up of being stuck in traffic queues, heading into Birmingham, Try travelling in the other direction, against the traffic flow and see how much quicker your journey is. Not only that, but our serviced office solutions are second to none. We have over five major awards to our name and a growing client base of satisfied customers.
Our Serviced Offices allow our clients to service a large local geographical area, with the following towns all being less than 30 minutes away.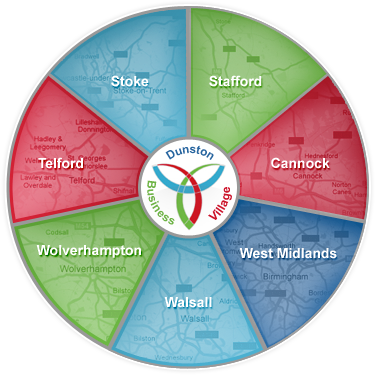 If you are serious about looking for Serviced offices in the West Midlands and in Particular in Cannock, Stafford, Stoke, Telford, Walsall and Wolverhampton, then allow us to help you in selecting the best Serviced Offices around.
For the very best Serviced Offices in the West Midlands call us now on 01785 711 600.
adrian@dunstonbusinessvillage.com
Dunston Business Village - Registered in the UK : 4223216 - VAT Registered : 775967654
Registered Address : Woodland Lodge - Dunston Business Village - Dunston - ST18 9FJ
Site best viewed with Google Chrome or Mozilla Firefox
Dunston Business Village has a wide catchment area that covers the following regions: Dunston Stafford Penkridge Cannock Staffordshire West Midlands Midlands Stoke on Trent Telford Wolverhampton Tamworth Sutton Coldfield Birmingham Bridgnorth Donnington Newport Market Drayton Uttoxeter Burton Upon Trent Cheadle Rugeley Lichfield Walsall Dudley West Bromwich Oldbury
Site Privacy, Terms & Conditions, Legal Notice | Dunston Business Village © 2008 - 2022 IT support by DBV IT Helpdesk | Site Map